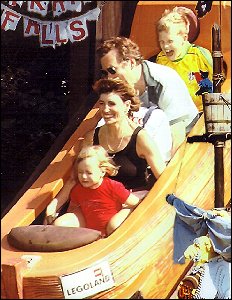 Powers Family
Hello....and welcome to the Powers Family from England.
We're really pleased that you have visited our site and would be delighted to hear from you. (This email address is being protected from spambots. You need JavaScript enabled to view it.). Here we are in 1999 at Legoland, Windsor - one of us looks like they're not totally loving the ride!
On this site you'll find lots of information on each one of us. We try to keep the site bang up to date, especially the Family Diary - chances are this has been updated in the last couple of days.
The site was started a while ago when the children were little - some parts still contain the old information as well as more recent updates.
If your surname is also Powers then take a look at our exhaustive list of other "Powers Family" web-sites.
Navigating around the site is easy. Just use the list of pages on the right.
To gain access to the rest of the site beyond this page you'll need to register and log-on. This email address is being protected from spambots. You need JavaScript enabled to view it. us to register.